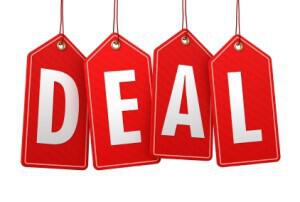 We all want to find the best deals in stores, so we clip coupons and scan the Sunday newspaper for sales, but as online shopping gains increasing popularity, where do you go to find the best bargains? Well I'm glad I asked, because My Computer Works prepared a rundown of the three best deal sites for potential high-dollar savings:
SlickDeals.net – This site is great for finding deals on ALL kinds of items, from apparel to zirconia. With a large, yet easy-to-use interface, it's one of the best-curated deal sites around. There are ratings and reviews for each deal to indicate popularity and any possible hurdles in making the sale. With an awesome Android/iOS companion app, you can also find great deals on the go!
TechBargains.net – Geared mainly toward electronics and computer-related deals, this site will allow you to save a lot of money on anything from hard drives to rice cookers, and everything in between. Over the years, this has been my go-to source for building or upgrading computers, finding killer laptop prices, and acquiring all kinds of digital media on the cheap.
Woot.com – The original daily deal site – Woot! was acquired by Amazon.com in 2010 and has since become a giant for aggregated deals on anything you can imagine, including technology, wine, kids toys, independently-designed t-shirts, and more. They also have a site called deals.woot.com which contains a plethora of deals on all of the above-mentioned items (and even more!), all upvoted and downvoted by the Woot! community.
Wanted to save more and just get your old gadgets and computer up and running? My Computer Works online tech support professionals is just a call away.