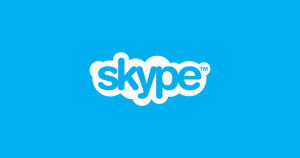 With the emergence of Apple's FaceTime and Viber Video, Skype has taken on some tough competition. However, it remains strong as the go-to video communication service for home and business users. Here's a little refresher on how to get going with Skype:
Sign Up
It's easy to get started with a Skype account. Just go to skype.com and click "Join Us" in the upper right corner of the screen or click "Get Skype". You can sign in using an existing Microsoft or Facebook account, so choose your destiny there.
Download
Skype is available for Windows and Mac OS, so if necessary, select your version of operating system. Your browser may automatically detect it and prompt you to download the setup file. Just double-click the file and setup should begin. Follow the prompts to install Skype.
Check Settings
It's a good idea to check your audio and video settings (microphone and speakers) right after you install Skype. You can access those settings by going to "Call", then "Audio Settings" or "Video Settings". You'll want to make sure:
- Your speakers are on
- Your voice can be heard through the microphone
- Your webcam is connected
Add Contacts
Once you're in the Skype app, you'll see "Find your friends and say hello." You can search for your Skype contacts in your address book by selecting "Search address book." You can also add Skype contacts manually by clicking the (you guessed it) "Add Contacts" button. Your Skype contacts will show up after they have accepted your request.
Use It!
All that's left to do is use the app to contact friends, family, or just about anyone! You can also download the Skype mobile app from the App Store or Google Play.
Here's a (slightly outdated, but still oh, so useful) video on how to get up and running with Skype: http://youtu.be/ltl0xcyDoNQ
Still need help? Our online tech support professionals at My Computer Works are here to assist you from getting your system up and running as quickly as possible.