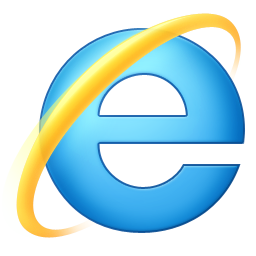 Internet Explorer is in the news again. But this time, it's for a huge security vulnerability. Oh I'm sorry, just one second, I'm getting some info from our control room…Oh. Apparently this is the status quo for Internet Explorer…
Seriously though, this latest security flaw is kind of an enormous one, affecting every single version of Internet Explorer, which is about 26% of the entire browser market (in other words, basically 26% of Internet users).
The vulnerability mostly targets Internet Explorer versions 9, 10, and 11. It's being referred to as a "use after free" attack. Basically, a malicious user or attacker could host a specially-made website which could look and "feel" like a legitimate or familiar site. When a user visits the website using Internet Explorer, the site exploits the vulnerability, thereby allowing the attacker to execute arbitrary code on the user's computer, which could cause any number of effects.
What to do: Wait.
Microsoft is currently investigating this major flaw and will most likely issue an out-of-cycle security update for the Internet Explorer browser on all Microsoft operating systems released AFTER Windows XP. You may remember that on April 8th, 2014, Microsoft officially discontinued support for Windows XP. Unfortunately this means that Windows XP users will most likely NOT receive the security fix for this flaw which enlarges the computers vulnerability to viruses and spyware.
In the meantime, My Computer Works HIGHLY recommend migrating to a different browser, namely Mozilla Firefox. It contains every feature found in Internet Explorer (minus this huge security flaw) and in many cases, performs faster than Internet Explorer. Download it here: http://www.mozilla.org/en-US/firefox/new
If you are using Windows 7, 8, or 8.1, you should receive the security fix when Microsoft releases it.
Still need help? My Computer Works online tech support is here to assist you whether you're on the older Windows XP, 7, 8, 8.1  or in the new Windows 10 OS in speeding up your PC, removing computer viruses and spywares to a complete computer service repair.