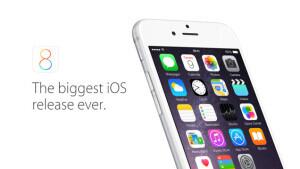 iOS 8 is here! And, with it, comes a slew of new features and enhancements. Without further ado, here are the Top 10:
Interactive Notifications – Now you can swipe down from a banner notification and quickly reply to it. A time-saver and a long-awaited feature.
Battery Monitoring – You can now see exactly how much battery (by percentage of the total) each app is using on your iOS device.
Keyboards – A much-demanded feature! Add customized third-party keyboards in place of the standard one. This means popular keyboards like Swype, previously just for Android, is now on iOS.
Camera Timer – You asked for it and they (finally) delivered. Just like on your old-school cameras, you now have a timer to allow for more preparation for selfies.
Recents and Favorites – Just double-press the Home button and you'll now have a row of recent contacts and favorites easily accessible at the top of the screen.
Spotlight – The search functionality of your iDevices has gotten much more robust. Search for anything and iOS will find it on your phone or on the Internet.
Messages – The most frequently-used app on iOS has gotten even better with the ability to quickly send audio and video messages which expire automatically (or you can keep them).
Health – This is a brand new app from Apple which acts as an aggregator for all of your health-related applications and devices, bringing all that data together into a single app.
QuickType – Apple finally gets into the predictive text arena with this long overdue feature.
Family Sharing – This very cool feature allows you to include up to 6 family members who can share all of your photos, music, and even apps that you've each purchased. A big money saver, to say the least!
There are so many other features in iOS 8, and even more if you have a brand new iPhone 6 or iPhone 6 Plus. Check out all the features here: https://www.apple.com/ios/whats-new
Experiencing issues on your new IPhone? Our online tech support professionals at My Computer Works are here to help you out, give us a call today.