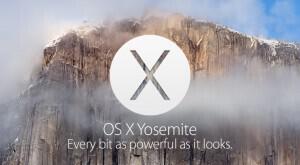 It's another year and another WWDC (WorldWide Developers' Conference) for Apple. Each year, they announce another version of their desktop and mobile operating systems. Last year, iOS 7 was the big news, ushering in all kind of newness such as a completely modern interface, redesigned Photos app, and much more.
This year, Apple not only announced iOS 8, but Mac OS X Yosemite. Each of these releases has TONS of new features, but I've listed my Top 5 overall features below:
1 – Handoff
Start a task on one device and continue it on another – seamlessly. For example, you might start typing an email on your iPhone and decide it might be a bit lengthy and therefore easier to continue on your MacBook Air. Just walk up to your laptop and click the Handoff Mail icon. Your email draft is is already there and ready to continue.
2 – Expanded AirDrop
This is a long-awaited feature that allows Macs and iDevices to play with each other when transferring files via Apple's AirDrop service. Previously, iOS only played with iOS and OS X only played with OS X. Basically, instead of having to email a file to yourself on one device and receive it on another, this feature allows you to easily transfer directly in either direction – without using wi-fi.
3 – QuickType (iOS 8)
A much-anticipated and long-overdue feature, QuickType offers word suggestions while typing. As a user types, the keyboard suggests words and phrases that a user is likely to choose next. It even considers the different writing styles people use in different apps throughout the operating system. Very cool.
4 – Notification Center (iOS 8)
Widgets are now allowed within the iOS Notification Center, so that creates many avenues for functionality. Also, you can handle texts and emails directly from the notification itself. Voice recordings can also be sent via iMessage – and you can actually leave group conversations.
5 – Make and Receive Phone Calls on your Mac
Just like it sounds, you can make and receive phone calls on your Mac via an iPhone connected to the same wi-fi network (very common when at home or the office). You can also send texts to non-iOS users via the same Mac-iPhone relay.
There are so many other features, and you can check them out here (Yosemite) and here (iOS 8).
Experiencing issues on your new iOS 8 system? Our online tech support professionals at My Computer Works are here to help you out, give us a call today.