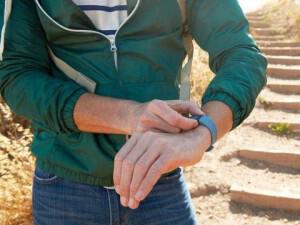 1. RunKeeper
RunKeeper lets you track your workouts and weight loss. It has planned routes and set workouts or you can create your own with audio coaching. You can also sync it with other tracking apps like MyFitnessPal's Calorie Counter and Fitbit.
2. FitBit
The Fitbitapp can be used on its own or with the company's smart wristbands to track your activity and training. With the wristband you can get exact step counts and calories burned, but on its own, you can still log workouts and your diet.
3. MyFitnessPal
MyFitnessPal's Calorie Counter lets you track your diet in a simple and easy to use way. The app claims to have the largest food database of any iOS calorie counter.
4. Zombies, Run!
Zombies, Run! turns a boring run into an exciting chase with zombies. The app puts together a whole narrative while you're running while at the same time tracking your stats and ensuring a good workout.
5. Fooducate
Fooducate is another food tracker, but this one goes beyond just calories and lets you scan the barcodes on food to see its "nutrition grade." The app will also suggest healthier alternatives if your item gets a bad grade.
Source: http://www.businessinsider.com/13-best-health-and-fitness-apps-2014-7?op=1
Experiencing issues on your gadget or computer app? Our online tech support professionals at My Computer Works are here to help you out, give us a call today.