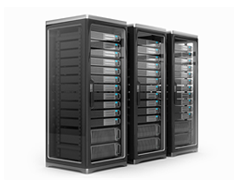 A cloud storage service is basically a remote server hosted by a (hopefully) major company which keeps secure backups in case of accidental or catastrophic data loss.
With so many cloud storage services out there, which one should you trust with your data? Well there's not much reason the answer can't be "all of them", but here's a quick rundown of the three most popular services:
Dropbox: http://dropbox.com
This service is my personal favorite due to its availability on most every major platform and operating system. For example, I can open a document stored in my Dropbox folder on my laptop, make some edits, save it, and within seconds the updated version is available on my phone or tablet (where I can also make changes and sync it back to my computer). This "syncing" capability has become common with most cloud storage services, but as I mentioned, Dropbox seems to be one of the most widely accessible and software-integrated platforms around. Highly recommended and FREE with limited storage.
Box: https://www.box.com
Very similar to Dropbox, but leans more toward business use. However, the company recently made a push to the personal storage market with 50GB of free space. In my experience, the desktop applications for Box have been a bit buggy, but the mobile apps seem very smooth. Integration in third-party mobiles apps, however, is still a little less common than the presence of Dropbox. Box is still worth a try, so give it a shot.
Google Drive: https://drive.google.com
Chances are you've already got a Google account. If so, BOOM – You've got Google Drive! Formerly Google Documents (or "Google Docs" for the cool people), Google Drive now allows storage of other file types and is accessible from anywhere online through your single sign-on Google credentials. Drive has yet to be integrated into many popular mobile apps, but it's getting there. If you use Google for mail, document creation, and most other things (because Google seems to be developing apps for most everything), you might want to use Google Drive for your data storage.
Try all of them and see which works best for you!
Having a cloud storage for your important files is as essential as to having  your computer system backed-up and running smooth. Whether you hire a professional service like My Computer Works online support who offers that kind of protection, or choose to undertake the task on your own, it's necessary to keep your day-to-day data in the safe hands for peace of mind.