Did you know that when you post anything on Facebook, you can pick and choose who gets to see it? Well you do; you can customize who sees your Facebook posts!
Same rule also applies to those who post things with your name attached to it…also known as "tagging" you. To control what can be added to your Facebook timeline, click here!
This could potentially make sharing on social media much more compelling. Maybe you want to share something with just your family members, or maybe you want to share something with everyone but your family members. No judgment here, but with Facebook's customizing settings, it is totally possible!
Who Do You Want Seeing Your Activity?
On a status update, you will see a tab on the bottom that either says "Friends" or "Public" with an arrow like this: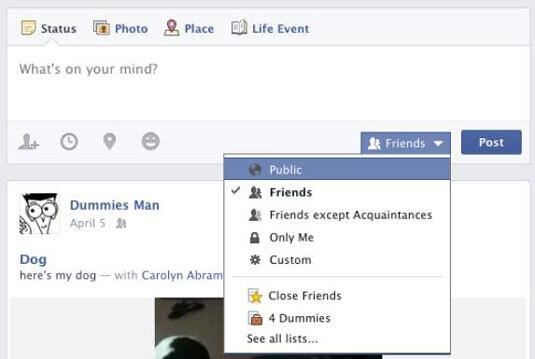 Click this drop down tab and you will be presented with many options to customize the audience of your post/status.
Options Include:
Public- anyone on or off Facebook
Friends- your friends on Facebook
Friends Except…- don't show to some friends
Specific Friends- only show to some friends
Only me- only me
Custom- include and exclude friends and lists
We Can Help!
Do you have any more questions about how to customize your Facebook account and it's settings? We can walk you through how to customize who sees your Facebook posts. Call us at (877) 629-6972, or visit our website here! We have professionally trained technicians standing by.
Related Topics:
Control Your Facebook Timeline